Timmiella barbuloides (Brid.) Monk.
General description:
This moss is green in colour and our specimen is on the small size of up to 5mm tall. The lanceolate leaves are between 5 - 6mm in length and less than 1mm width. Leaves tend to be V - shape in cross section when moist. They coil/curve when dry. The leaf margin has irregular teeth towards the tip. These are not found lower down the leaf. The nerve is very wide relative to the width of the leaf and is on average 0.25mm wide. The plant has dark red/brown rhizomes. The cells from the tip and middle of the leaf are square to round in shape. The basal cells are relatively large, rectangular in shape with few or no chloroplasts. A terminal seta is produced which is about 18mm in length. It is yellowish in colour with a reddish base. An erect olive green cylindrical capsule is formed which is between 3 - 5mm in length with a pointed calyptra. When the calyptra is shed the red peristome teeth can be observed. These tend to be lightly twisted. Yellow green, spherical spore of 12.4 micometers diameter are formed.
Distribution:
Found behind "The City in Siege" (Upper Rock).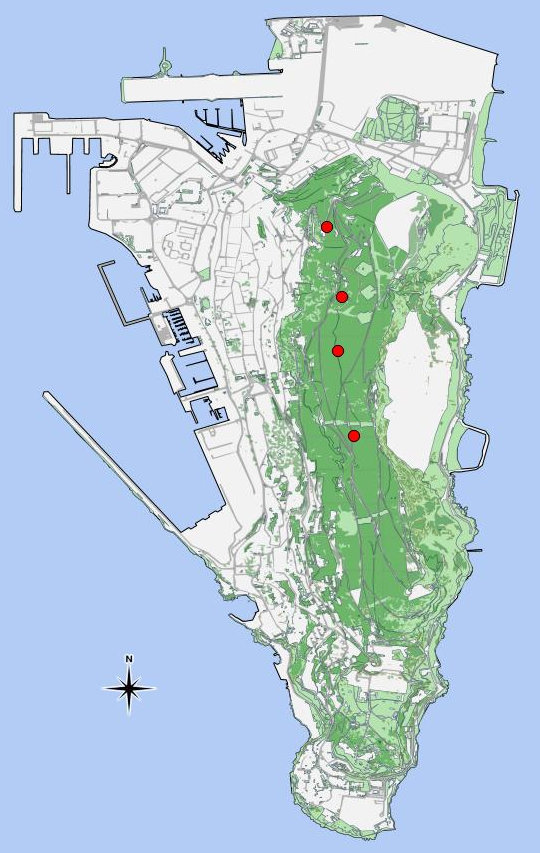 Habitat:
Found on calcareous rocks, soil and walls.